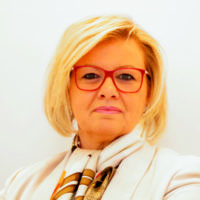 Stefania Padoan
Senior Advisor in Entrepreneurship and Family Business
Born and raised in Treviso, Veneto, and an entrepreneur since birth, as she likes to call herself, Stefania has taken over the family baton and together with her brother has been leading the Padoan company since 2000.
With a specific training in the area of administration and finance, Stefania has held various roles in the company, contributing to the development of the company and the internationalization process.
The Italian company is currently structured in Padoan Group, with 4 companies in the world.
The commitment in first person in the company management, the possibility to confront daily with the typical facets of the multiple markets – more than 50 in the world – allowed her to be at the forefront of the company development in the industrial vehicle sector.
Stefania's keen interest in economic and business interactions, particularly in the area of Administration and Finance, has also led her to work outside the company as an auditor for Assindustria Veneto Centro (the second largest business association in Italy) and Unindustria Treviso.
She is currently also an arbitrator within the Industrial Association with a specific focus on association dynamics.
Stefania's commitment to business has always been accompanied by her institutional commitment, passing on her experience and sharing her know-how with the aim of generating and sharing value.
Growing is a desire and an interest to which she devotes herself with enthusiasm, committing with pleasure time and attention by participating in many conferences and meetings as a speaker on issues related to internationalization, business development abroad, sustainability and family business.
Representing Padoan, she is a committed member of several associations including the Italian Chamber of Commerce in French-speaking Switzerland (CCIS), Assindustria Veneto Centro imprenditori Padova-Treviso and the Ticino Chamber of Commerce in Lugano.
Stefania also works with the Department of Economic Development of the Canton of Graubünden and with Switzerland Global Enterprise, which informs, advises and accompanies Swiss and Liechtenstein SMEs in their international activities.
She is also a member of the ImprendiTi Association whose mission is to strengthen and transmit the entrepreneurial culture and values in Ticino.
Padoan and the owners strongly believe in the role of companies as a social engine, and this has led them to promote and support realities such as the Giovanni Comisso Literary Prize and Treviso Basket.