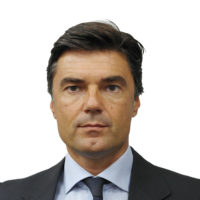 Alessandro Vecci
Senior Advisor in Risk Management and Ambassador ALMA Impact for the UK market
Alessandro has a wealth of experience built over more than 25 years in the international financial services industry.
He worked as a consultant for top tier financial institutions and EU central banks as well as banker, developing extensive knowledge and practice related to risk, regulations, compliance and capital management.
Italian national, after many years as risk manager at BNL (now BNPP) in Rome he then moved to Zurich and Lugano to work respectively as risk consultant at Arthur Andersen and then CRO at BancaStato. He then moved again to London, where he is still based since more than 15 years, and worked as risk consultant at EY first and then at Genpact. Some of his most senior positions included interim CRO at the HMT Asset Protection Agency, head of EY UK ERS practice and senior partner, EU risk and compliance lead at Genpact for consulting and managed services.
Throughout his career, Alessandro has been exposed to complex and diverse projects, ranging from strategy & governance, AI / ML risk applications, risk transformation and efficiency, risk management system implementations to compliance and regulatory assurance. He has strong programme management / change experience, solution development and proven team building / leading capabilities.
Alessandro is a risk trainer and speaker at public events / risk conferences. He is also an ExCo member of IOR / IRM association in UK.